Page 3 - Southwell Introduction Brochure
P. 3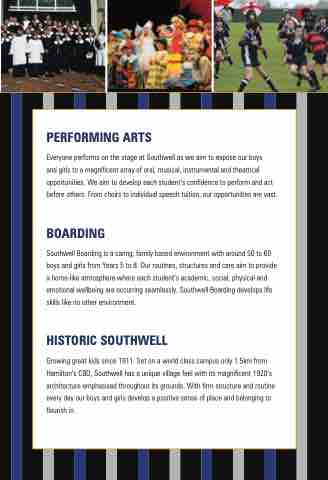 PERFORMING ARTS
Everyone performs on the stage at Southwell as we aim to expose our boys
and girls to a magnificent array of oral, musical, instrumental and theatrical opportunities. We aim to develop each student's confidence to perform and act before others. From choirs to individual speech tuition, our opportunities are vast.
BOARDING
Southwell Boarding is a caring, family based environment with around 50 to 60 boys and girls from Years 5 to 8. Our routines, structures and care aim to provide a home-like atmosphere where each student's academic, social, physical and emotional wellbeing are occurring seamlessly. Southwell Boarding develops life skills like no other environment.
HISTORIC SOUTHWELL
Growing great kids since 1911. Set on a world class campus only 1.5km from Hamilton's CBD, Southwell has a unique village feel with its magnificent 1920's architecture emphasised throughout its grounds. With firm structure and routine every day our boys and girls develop a positive sense of place and belonging to flourish in.